New! Bausch & Lomb Contact Lenses for Presbyopia and Astigmatism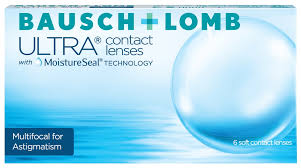 For contact lens wearers who have both presbyopia AND astigmatism, getting their first pair of contact lenses used to take weeks because these specialty lenses had to be custom made.  Then, if these patients needed a second or third fitting — which is often required for this type of complex contact lens — it was several weeks more before they got their prescription fine tuned.  That is no longer the case!  Bausch & Lomb recently introduced ULTRA Multifocal for Astigmatism Contact Lenses, which are now readily available in a wide variety of prescriptions.
Key features and benefits:
Stable, consistently clear vision up close, far away and in between
MoistureSeal technology helps lenses maintain 95% of their moisture for a full 16 hours for long-lasting comfort
Orientation mark to aid correct lens insertion
Multifocal contact lenses for astigmatism are a good solution for patients who need this type of vision correction for most activities, but who only want to wear glasses for specific tasks — for example — engaging in hobbies that require close-up work.  These contact lenses are not, however,  for every patient with presbyopia and astigmatism.  Multifocal contact lenses for astigmatism do not correct vision at all distances well as eyeglasses with progressive lenses.  If you'd like to find out if Bausch & Lomb ULTRA Multifocal for Astigmatism Contact Lenses might be right for you, give us call at 860-763-4733 to set up an appointment.