Excess Screen Time Linked to Dramatic Increase in Teens Needing Glasses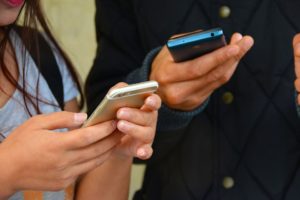 It's no secret that staring at a phone or computer screen for long periods of time can be harmful to the eyes — especially children's eyes.  Dr. Squillace has been interviewed by the media about the dramatic increase in myopia among children, and a recent UK study confirms this trend.  According to Scrivens Opticians, an 80-year-old company with 180 optical stores throughout England, the percentage of kids ages 13 to 16 who need glasses has nearly doubled in less than a decade.  Unlike children of previous generations, today's kids engage in electronic devices for most of their lives.  There are two problems associated with this intensive screen use:  harmful blue light radiation and staring for long periods of time at screens without taking regular breaks.
Here's how we can help children protect their eyes (and our own eyes as well):
Use blue light filtering settings on devices that have this capability or blue light filtering accessories on those that do not.
When buying children's prescription glasses, made sure that the lenses have blue light filtering — either in the lens itself or in the coating. (Dr. Squillace can advise you on these options.)
For children who don't need vision correction, purchase non-prescription glasses that have blue light filtering in the lenses (We have such eyewear).
Keep in mind, however, that while these blue light filtering strategies can be helpful, excessive blue light can still potentially damage the anatomy in the eye lens and macula over time. Limiting screen time is strongly advised.
Insist in the 20-20-20 rule advised by the American Optometric Association: Take a 20-second break from screens every 20 minutes to look at something 20 feet away.
Schedule children's eye exams every year if they need vision correction; every two years if they do not.