Eye Protection for Sports and Recreation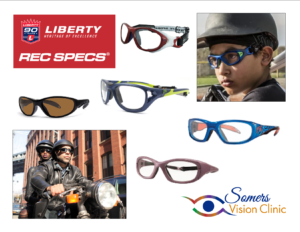 According to the National Eye Institute, sports-related eye injuries account for an estimated 100,000 physician visits every year and 42,000 trips to hospital emergency departments.  The highest risk sports include baseball, basketball, boxing, hockey, paintball and racquetball.  School-aged competitors are particularly prone to eye injuries since their athletic skills (hand-eye coordination, balance, reaction time and speed) are still developing. Cyclists and motorcyclists are also prone to eye injuries from airborne particulates.  Under most circumstances, however, at least 90% of sports-related eye injuries are preventable with the proper use of protective sports and recreational eyewear.
Somers Vision Clinic offers a wide variety of RecSpecs protective eyewear manufactured by Liberty Sport.  This company has been producing superior frames and lenses to handle the rigors of sporting and recreational activities since 1929.  Built to perform under demanding conditions, Liberty Sport  products are available with plano (non-prescription) lenses and most are available with prescription lenses.  Whether your sport or recreational activity requires protection from impact, sun or airborne particulates, there's a Liberty Sport product  to protect your precious eyes.  And RecSpecs are guaranteed for life!
Visit our dispensary to learn more about RecSpecs and see samples of these products.