BLEEDING IN THE EYE: WHEN TO SEE AN EYE DOCTOR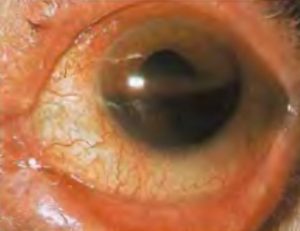 I've seen a lot of people over the years with broken blood vessels in their eyes, which is known as a subconjunctival hemorrhage. While this can be scary looking, it usually resolves on its own in 7-10 days. (Note: Some over-the-counter eye drops and oral supplements can make it worse.)
There is another type of bleeding in the eye, however, that's much more serious. It's called a hyphema, a bleeding or broken blood vessel inside the anterior chamber of the eye — the space between the cornea and the iris. The severity of a hyphema is graded, from 0-5, by the amount of blood that accumulates in the eye. In a Grade 0 hyphema, there is no visible pooling of blood but red blood cells are visible on microscopic examination. In Grades 1-4, the pooling of blood is visible in progressively higher levels of the anterior chamber. A grade 4 hyphema fills the entire anterior chamber.
Symptoms of a hyphema may include blurry or distorted vision, eye pain. light sensitivity and headache. The most common cause is trauma to the eye. A hyphema can also occur spontaneously, especially in people who are taking blood thinners, such as aspirin, rivaroxaban (Xarelto), dabigatran (Pradaxa), apixaban (Eliquis), heparin (various brands) and warfarin (Coumadin). Diabetes and eye tumors can also increase the risk of a spontaneous hyphema. Although rare, a traumatic hyphema can occur after eye surgery.
A hyphema can be sight threatening and needs to be treated immediately. If you have an injury that causes a black eye, you should see an eye doctor as soon as possible, even if you feel fine and see no blood in the eye itself.
While regular eye exams are important, they are especially important after a hyphema, which can increase the risk of developing glaucoma. People with sickle cell anemia also face a greater risk of developing eye damage following a hyphema.
Treatment for a hyphema will vary, based on the severity and associated risk factors. Precautions and treatments may include:
Limted physical activity
Keeping head elevated (including while sleeping)
Wearing an eye shield
Frequent follow-up eye doctor appointments
Pain medication
Anti-inflammatory medication (topic or oral)
Other appropriate medications.
In severe cases, surgery
The best way to avoid a traumatic hyphema is to wear eye protection when engaging in potentially dangerous activities. Protective eyewear, goggles or full-face masks should be worn when playing any sport or engaging in other activity that poses a risk of trauma to the eyes. If you need guidance on what type of eye protection you need, give us a call at 860-763-4733.